College Outlines Plan to Introduce Police Officers to Campus
Vice President Donna Schena and head of Public Safety Steve Drummond give detail on the planned introduction of special police to campus and answer questions from students and staff
Senior Montgomery College administrators outlined in detail their plan to introduce police officers to all three campuses in a public meeting held on the Takoma Park/Silver Spring campus last Tuesday.
Donna Schena, a senior vice president at MC, and Steve Drummond, the Interim Director of Public Safety, spoke at length about the planned introduction of Special Police Officers (SPOs), their roles on campus, and their training, before answering questions from students and professors. Students voiced their concerns about undocumented students, racial profiling and the complaints procedure, among other issues.
In an introductory speech, Ms. Schena provided a summary of improvements to the public safety system that had been made in the past few years. She touted improvements to MC's College Emergency Management Plan and greater training for the existing Public Safety Officers (who are not police officers and do not have powers of arrest).
Following Ms. Schena's speech, Mr. Drummond spoke about the introduction of police to campus. According to Mr. Drummond, the primary reason for the introduction of police officers is twofold: the time delay for off-campus police to respond to threats, and the fact that the existing Public Safety Officers have no powers to intervene physically or detain people on campus.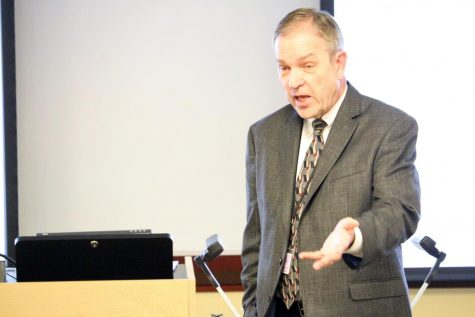 He stressed that the new police officers would not carry firearms, would be specially trained in de-escalation techniques, and would use their legal powers as a last resort, preferring to "keep issues in school" than to get the law involved.
The new police officers will be recruited from among the existing Public Safety Officers and will make up approximately 25% of the public safety staff at each campus, with the remaining 75% still being Public Safety Officers. The police officers will not carry pistols, but will carry handcuffs, batons and irritant pepper gel.
Mr. Drummond acknowledged that the campus was a "very peaceful environment," saying that in the past year, there have been no violent incidents on campus, and only a handful of reported thefts.
In the question and answer session, multiple students asked questions about the complaints procedure. Mr. Drummond said that there will be an officer trained in the handling of complaints, and that a policy will be in place where every complaint received will be investigated by a trained officer.
Other students raised concerns on behalf of undocumented students, who may feel less safe in the presence of police officers. Mr. Drummond said that the Montgomery County Police Department's policy is to never refer any civilian to Immigration and Customs Enforcement, the federal agency tasked with carrying out deportations.
MC history professor Vincent Intondi sharply questioned whether there was a need for police officers if, as Mr. Drummond mentioned, the campus was so safe, and violence almost unheard of. He also strongly criticized the plan for officers to carry batons.
Mr. Drummond answered by drawing up hypothetical scenarios, such as a break-in to a car in the parking garage, in which a police presence might increase the chances of an arrest.
Montgomery College will become the 12th community college in Maryland to introduce police onto campus. Once MC introduces police officers, only four community colleges in the state will be left without campus police.
All 11 other community college police forces carry firearms, making MC unique in its plan to introduce unarmed police.