Fall 2023 Flyer Design Contest
Montgomery College (MC) students are invited to submit a flyer to The Excalibur's flyer design contest!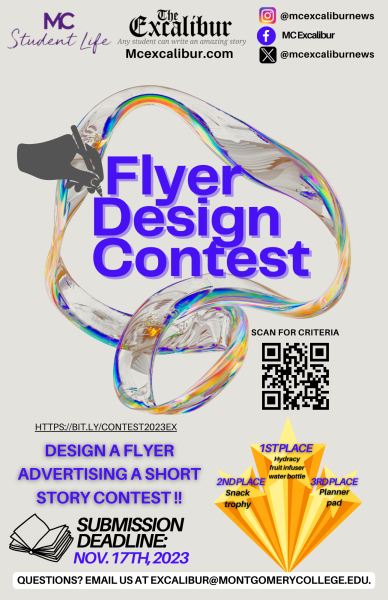 This year's 1st, 2nd, and 3rd place will win prizes. The winning flyer will be used to advertise the Excalibur's short story contest in spring 2024. See design criteria below.
1st place:  Hydracy fruit infuser water bottle
2nd place:  Snack trophy
3rd place: Planner pad
The judges for the competition will be:
Norberto Gomez, Visual and Performing Arts Department Chair
Marcus Rosano, MC Director of Media Relations and Public Relations
Fenet Degemu Shertaga, Student Life Office Student Assistant and TPSS Campus Council Student Representative
Eligibility
Must be a current MC student.
The deadline to submit the flyer is November 17th.
Submit flyers to [email protected]. Include "2023 MC Excalibur Flyer Design Contest" in the subject line and attach submissions as .pdf or .jpeg files.
We're excited to hear from you!
FLYER DESIGN CRITERIA
Feel free to make up any other details that you would like to include on your flyer such as dates, time and location. 
| | |
| --- | --- |
| Creativity and Originality (20 points) | Evaluate the uniqueness and innovation of the design. Are there fresh ideas, concepts, and visual elements that stand out? |
| Relevance to the Theme (10 points) | Assess how well the design aligns with the purpose and theme of the event or message the flier intends to convey. |
| Visual Impact (10 points) | Consider the overall aesthetics, including the use of colors, typography, images, and layout. Does the design catch the eye and create a positive impression? |
| Clarity and Readability (10 points) | Ensure that the information presented is clear and easily readable. Assess the organization of content and the legibility of text |
| Message Effectiveness (10 points) | Evaluate how well the flier communicates its intended message. Is the information conveyed effectively to the target audience? |
| Adherence to Guidelines (10 points) | The design adheres to any specific guidelines or requirements provided for the contest. Deduct points for deviations from these guidelines. |
| Overall Presentation (10 points) | Overall presentation and polish of the design. Is it a professional-looking flier that would engage the audience? |
| Audience Engagement (10 points) | Assess the design's potential to engage the student body and create interest in the event or message. |
| Practicality for Distribution (10 points): | Evaluate whether the design is practical for distribution, considering factors like printability and ease of sharing on digital platforms |