An interactive paracosm: Artist-In-Residence Heloisa Escudero comes to MC
Brazilian-Italian-American artist opens an interactive exhibit in the Cafritz Arts Center of the Takoma Park campus.
Hang on for a minute...we're trying to find some more stories you might like.
It is not every day where you witness an artist eating Post-It notes upon request. Heloisa Escudero, Artist-In-Residence at Montgomery College, will do just that. One of her pieces in this exhibit is a bowl full of Post-It notes, and Escudero will ask you to write any fears, insecurities, or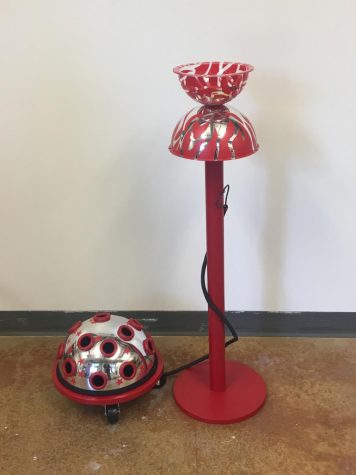 weaknesses you might have. Then she will eat it without reading it.
A graduate of the Massachusetts College of Art and San Francisco Art Institute, Escudero has traveled the world and is now hosting an interactive exhibit in the spacious and modest location of the Cafritz Arts Center, in room CF193A. Until when? Escudero is contracted to have her exhibit during the fall semester. Surprisingly, not enough people are lined up to see her magical, interactive pieces. These pieces, according to Escudero, are meant to give a sense of value for all. Students can learn more about themselves through interaction and being part of the art itself. Through Escudero, students become the subjects of her pieces and can perform to their heart's content.
One of her most notable pieces is called Everyone Is a VIP. In the corner of the classroom lies a short velvet rug behind a club rope, with a poster on the wall saying "Everyone Is a VIP". She will take pictures of the people that step in; they don't have to do a pose or show a talent. They just stand there, capturing the essence of a unique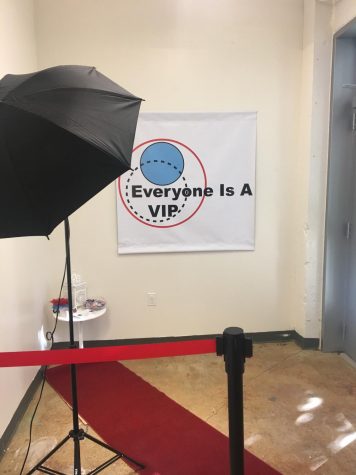 individual through a single portrait. When asked about the reasoning behind Everyone Is a VIP, she replies: "Most of the VIP-areas are monetary-based… I wanted to make one that doesn't exclude anybody". Escudero also shares the portraits onto an Instagram page set up specifically for the piece, to the patron's consent. "When you step into the area, you are performing and celebrating yourself, and what makes you unique". A truly sweet and heartfelt moment for all.
For more information on Escudero and her work, please visit heloisaescudero.com.