Montgomery College Hosts Its Annual Club Fair
The Student Atrium was buzzing with activity last week as the Student Life Office staged their annual Club Fair event. Students leaders from all over Montgomery College Takoma Park campus descended on the Atrium to show off their clubs to new are returning students with the hope of generating interest and participation in their respective clubs.
Of course, the students were out in their numbers to partake of the event and there were high expectations of the clubs who were present. The Great Minds Club was decked out in their colors to show off their club and their respective awards. Last semester, the Great Minds Club received numerous awards during the MC Honors and Awards service. Co-Founder and Club Historian of the Club, Harold Kamela, said that it was a great day for the club as far as interest in what they do want.
Some new clubs that emerged included the Ethiopian Students Association, who had a constant crowd at their table. In addition, new clubs such as the Back on Track Club and the Student Success Club made the event a rather successful one. These new and upcoming clubs are a testament to the diversity of the Montgomery College Takoma Park Silver Spring campus.
Notable absences from their table were members of the African Students Association, last year winner of the Multi-Cultural Club of the year award. Pass President Dianne Techwei left big shoes to fill as we saw that they successfully hosted the annual African Cultural Showcase and donated thousands towards scholarships for International Students.
Mia Price, Student life Specialist and event organizer said the turnout was great and the various club and organization leaders who interacted with students "provided an opportunity to give more insight as to what each club was about." Price mentioned that she was pleased with the turnout of the various clubs and more importantly the participation of the students who were the ones to gain from this event.
The event is held every semester by the Student Life Office to showcase the clubs and organizations around campus. Next semester, there will be a talk of the revitalization of the Caribbean Students Association and a Political Science Club.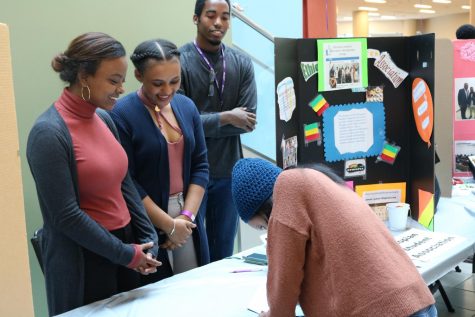 Leave a Comment