Student Senator Vasques-Reyes highlighted at Governor Wes Moore's state speech
"The biggest thing that I felt was excitement about my story being recognized," said Jefferson Vasquez-Reyes, a Montgomery College freshman of El Salvadorian origin, about the moment he was notified that Maryland Governor Wes Moore would highlight his story during Moore's state of the state address.
On Feb. 1, Moore featured Vasquez-Reyes in his state of the state speech that was delivered from the state house in Annapolis, Maryland. According to a press release of the speech on Maryland.gov, Moore focused on Vasquez-Reyes beginning his higher education journey at a two-year college to emphasize the importance supporting the non-traditional paths of matriculation.
"And while Maryland is home to some of the world's greatest institutions of higher education, a fact of which we should be very proud. We must end the myth that young people must attend one of them to be successful," Moore said.
The state of the state speech is given annually by Maryland governors to satisfy a constitutional stipulation requiring a report of the condition of state from "time to time" according to article two section nineteen of the Maryland constitution.
In Moore's speech, he spoke about the development of Maryland's workforce for the prosperity of the state. He emphasized the importance of education when recruiting public servants as well as the allocation of state resources to unlock the potential of Maryland's workforce.
Captured in a broadcast of the speech, Moore prompted the audience to recognize Vasquez-Reyes as a student who shares a similar educational background to him.
"Jefferson Vasquez-Reyes is a freshman at Montgomery College. Like me, he is on a path to graduate from a two-year college.  Like myself and our extraordinary Lieutenant Governor, he is the child of immigrants who came to Maryland for a better life. They had to forego their education due to war and homelessness in El Salvador," Moore said.
Moore credited state funding of scholarships and financial aid to Vasquez-Reyes' opportunity to achieve his educational goals tuition free.
Vasquez-Reyes studies biology at the Takoma Park/Silver Spring (TP/SS) campus while also serving as a student-senator, and as a member of the MC Premed Society. His motivation to increase diversity in the medical field by becoming a doctor was shared during Moore's speech.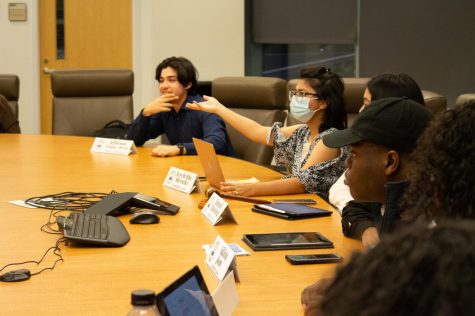 He is often present in the Office of Student Life (OSL) on the TP/SS campus for office hours as a student senator.
In his personal life, Vasquez-Reyes frequently accompanies his mother and grandmother on hospital visits and helps as a translator between the doctors and his family.
In the speech Moore said, "Witnessing the power of a doctor who understands his family's culture and was able to communicate with his grandmother in her native tongue, he has decided to step up and serve his community by becoming a doctor."
"Let's please honor his determination, and his commitment to our state. Jefferson, please stand." In the broadcast of the speech, the audience then stood and applauded to acknowledge Vasquez-Reyes.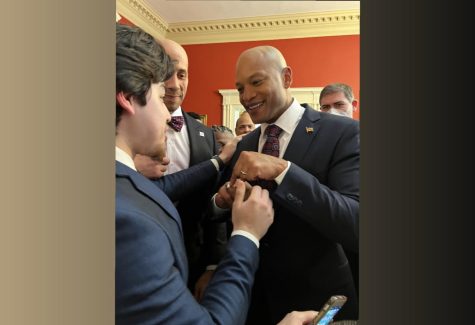 In an interview, Vasquez-Reyes said that immediately after the experience, he was deeply impacted to have represented the Latino community and be honored by the first Black Maryland Governor.
"I felt pride at being able to represent a college, but not just a college, a community college," Vasquez-Reyes said.
Vasquez-Reyes described how being honored by the first black governor of Maryland, meant a lot to him and was a powerful reminder of the success that minorities could achieve in this country.
Vasquez-Reyes recalled how the frequent hospitals visits as a child spurred his curiosity with medicine and Latino representation in medicine.
"I never found them," said Vasquez-Reyes referring to Latino doctors. "I would read their white coats when I got tired, and I never saw anyone with my last name," Vasquez-Reyes said.
He said this moment, in addition to being exposed to medicine at such a young age, cultivated his desire to pursue medicine as a career and to give back to the community. As Vasquez-Reyes put it, "If I never found them, the choice I had was to be one."
Leave a Comment
About the Contributors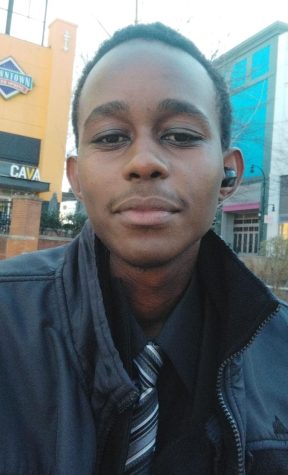 Ian Njenga, IT Specialist
Ian Njenga joined The Excalibur as an IT specialist in the spring of 2023. He is based at the Takoma Park/Silver Spring campus where he is completing his AA in Business. He plans to pursue Accounting at a 4-year institution after graduating. He joined The Excalibur to further develop his sense of journalism as well as contribute to their web service.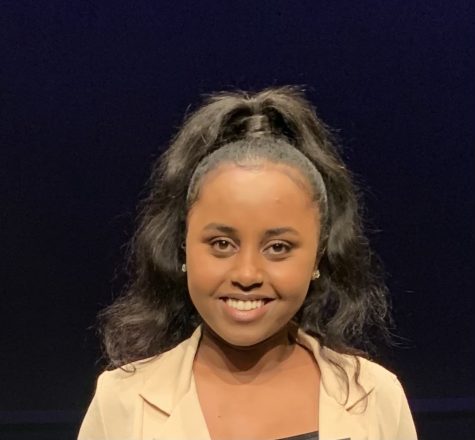 Rodas Mekonnen, Photographer
Rodas Mekonnen joined The Excalibur as a photographer in the fall of 2022. She is based at the Takoma Park/Silver Spring campus and is completing her AA in business management. Besides being a photographer, she is also interested in writing fiction stories. She has published a short fiction story in the Montgomery College Sligo Journal.