Town hall reveals future plans: full-year registration option and relaxed mask mandates
Right now, students are registering for classes for the spring 2023 semester. In the future, students will be able register for a whole academic year at once. This plan was unveiled by Dr. Sanjay Rai, the senior vice president of academic affairs at a town hall meeting earlier this semester.  
This town hall meeting addressed issues ranging from athlete safety, LGBTQIA inclusion, Presidential Transition Advisory Committee (PTAC) recommendations all the way to COVID-related staff safety policy changes, and student success outside of the classroom.
In his introductory remarks, President Jermaine Williams took to introducing the following PTAC recommendations:
Keep students first
Spark innovation
Expand partnership
Nurture a culture of care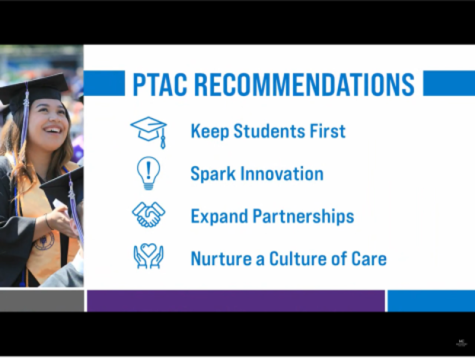 One student submitted a question to the Town Hall facilitators via email asking when Montgomery College (MC) would follow the lead of other Maryland universities as well as Centers for Disease Control and Prevention (CDC) recommendations to discontinue the mask mandate following a decline in Covid community levels.  
Williams responded that health and safety would be paramount as the college would continue to lead with "care and concern", taking steps based on the CDC's guidance as well as health and science data. 
Diego Hernandez, professor of English Language for Academic Purposes, questioned why the student vaccination requirement had been rescinded without notification of faculty. 
Williams quoted CDC vaccination data reporting that 90% of Montgomery County's population is fully vaccinated.  MC was the last community college to remove this requirement after the college reached 83% vaccination in the MC population. 
According to a college-wide memorandum sent out by the Office of Public Health, MC committed to reviewing its COVID protocols the first week of October. This was approximately a week after the town hall. As of next semester, the wearing of face masks in all college facilities will no longer be mandatory.  
A MC professor raised a concern via email about a transgender student's professor who insisted on addressing her as "sir," and asked for the implementation of inclusivity training among faculty members.  
"We make an effort to affirm the dignity of all our students, including our transgender and non-binary students," said Williams. He emphasized this by mentioning that the college was already hosting equity and inclusion training, changing binary gender options on applications and creating gender-affirming spaces and practices on ensuring everyone has that sense on belonging in their educational home. 
Williams also mentioned intentions to refresh the college's strategic plan by taking into consideration the current economic situation, circumstances brought about by the pandemic and cases of racial injustice within society.
Williams provided students with insider skills on how to become successful graduates. He said, "A common refrain is that we need the college to prepare more students for jobs in high demand, but none of these skills are really reliable without students who can communicate clearly, collaborate across divisions and can employ critical analysis and reasoning."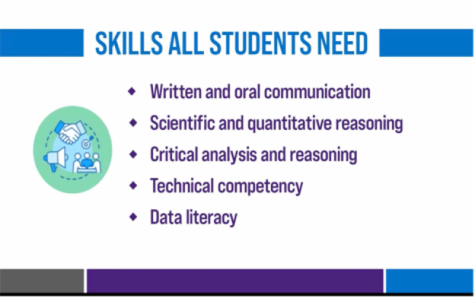 Williams expressed appreciation for the energy with which students approach these engagement opportunities and thanked the faculty for supporting the college and the community. He closed the meeting with his 5 year vision to continue to be "unabashedly and  unapologetically dedicated to student success."