The Raptor Day Starter Pack for MC Students
Here are 3 takeaways from Raptor Day to get MC students started this semester.
"Something I wish I had known [when becoming a Montgomery College (MC) student] was all the resources MC has," Takoma Park/Silver Spring Student Senator, Daniel Geneti, said during a recent Raptor Day Student Panel discussion. 
Raptor Day is an event hosted by the Office of Student Life in August to share resources and campus involvement opportunities with new and returning students.  
Janeé McFadden, Dean of Student Affairs, spoke to the students present at this year's Raptor Day explaining that a goal of Raptor Day is to create a "network of support" and a welcoming environment for students. 
At the event, students were given an event schedule that included an Office of Student Life presentation, a campus tour, a student resource fair, and other events. 
Here are 3 takeaways from Raptor Day for a MC student "starter pack": 
Get involved: 
The Office of Student Life (Student Life) encourages students to get involved on campus by joining the many clubs and programs under its umbrella.  
It hosts several clubs including the African Student Union and the Latino Student Union. They regularly sponsor events such as movie nights, a mental health awareness week, and volunteer fairs to keep students involved.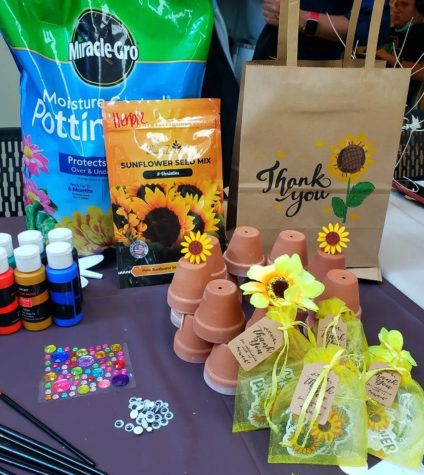 "Student Life gives me different tasks and skills that I cannot gain inside of the classroom. Every day is different. One day I will learn organization skills. [The next day] I will learn budgeting and marketing skills," said Fenet Shertaga, a Student Assistant at the Office of Student Life and who has participated in Student Senate, Student Activities Board (SAB), and MC Leads.  
During Raptor Day, Student Life shared with students a 10-week leadership development program called MC Leads. According to the Leadership Development Program webpage, two of the three program goals are to improve the students' self-competence and knowledge of leadership, and to foster positive change in the MC community. 
Other opportunities Student Life facilitates are the student newspaper, The Excalibur, and MC's Service-Learning Program, who were both present at Raptor Day.  
For more information, visit the Takoma Park/Silver Spring Office of Student Life web page on the Montgomery College website.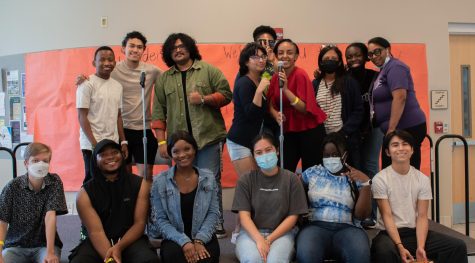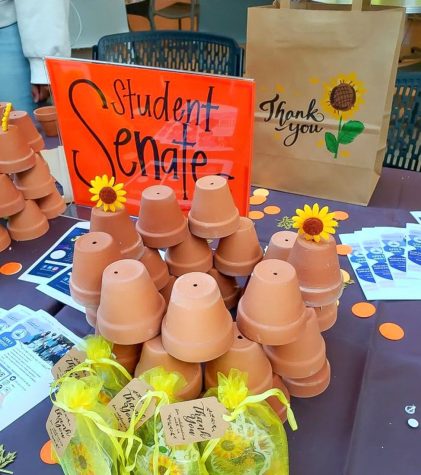 Take advantage of the student services: 
A library Access Services Specialist, Luke Sutherland, said "More students could be using our resources. Even the [students] that already do use our resources don't necessarily know the extent of things that they can get or do at the library." 
A resource that Sutherland refers to is a 24/7 librarian service available to students in need of research help, called LibAnswers 24/7 Cooperative.  
According to a library door counter, on average 300 students visit the library each day.  
Sutherland expressed that library staff are trained professionals who work "for the express purpose of helping students." 
On Raptor Day, the Library, Counseling and Advising, the Office of Financial Aid and the Writing Reading and Language Center (WRLC) conducted 15-minute workshops for students to introduce and explain their services.  
Some services include research help, tutoring services, academic advising, scholarship search, and financial aid advising.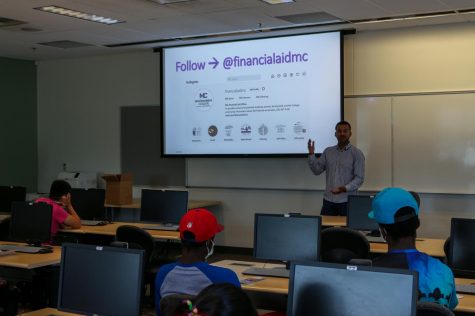 During the financial aid workshop, Financial Aid Outreach Counselor, Gustavo Minaya told students that many of their financial aid related questions can be answered through a phone call to the Office of Financial Aid. An example question Minaya gave was, "What is the status of my financial aid?"
For more information about the student services listed above and other services, visit their respective web pages on the Montgomery College website.  
Seek support:  
The college provides a variety of support resources for their students that include but are not limited to the Student Health and Wellness (SHaW) Center, the Math Learning Center, Raptor Central, Disability Services, and the Achieving the Promise Academy (ATPA), all of whom were present at Raptor Day's resource fair. The event gave students the opportunity to speak to representatives of these resources about what they have to offer to students.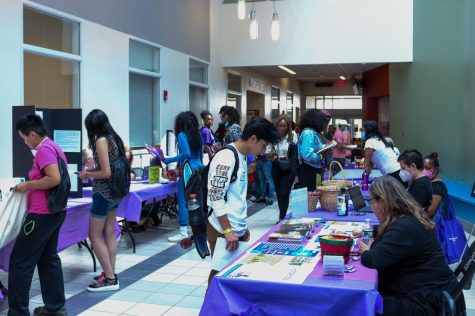 According to the SHaW Center webpage, their services address the spiritual, physical, social, mental, and basic needs of students. They provide student support groups, personal and hygienic care resources, physical wellness events, and a Social Resource Program. 
Math Learning Center Coordinator, Bharat Dhakal, said the Math Learning Center can fill the "foundational gaps" students may have, and that the center's data reveals that there is a higher passing rate amongst the students who use their resources. 
For more information about the resources listed above and other resources, visit their respective web pages on the Montgomery College website.