Student Senators Seek Student Senators Seek $4.5 Million from State Delegates to Furnish New Math and Science Building
The $95.5m Leggett Building is slated to be completed by Fall 2023
As the spring semester began, and the much anticipated 7-week courses sped along, the Montgomery College Student Senators submitted letters to the Maryland State Delegation in a concerted effort to ensure the funding for the Catherine and Isiah Leggett Building.
The building, scheduled to be fully operational and open for classes by Fall of 2023, will be a new structure on the Takoma Park/Silver Spring campus, and will replace the combined Science North and Science South building. The student senators have taken the initiative to ensure the math and science departments are well prepared when students return to on-campus learning.
From a sample of the many emails sent to the Maryland State Delegation, the student senators illustrate their personal investment into the future of Montgomery College. They explain how: "Although we will have graduated from MC by the time this project is complete, we take seriously our role in helping the next generation. We want future students—some of whom will be our neighbors or siblings—to have the buildings and equipment they need to succeed."
Each senator was assigned one or two delegates each of whom received a personal email encouraging the legislators to consider the future students of Montgomery College. The emails pointed out the importance of an adequate amount of financial support if Montgomery College is to maintain its prestige as a community college of high credibility as such is the case for the nursing department which ranks in the top 25 Associate's nursing programs.
The building has been a replacement project since 2004 and has held its place in the Montgomery College Capital budget since 2007. The complete project cost totals at $95.5 million, $9 million of which is set to be spent on furnishing the building.
The message was a direct request for support from the state of Maryland through its legislative branch, requesting the delegation to "Please approve the College's FY22 capital budget funding request of $4.5 million for the furniture and equipment needed for this building."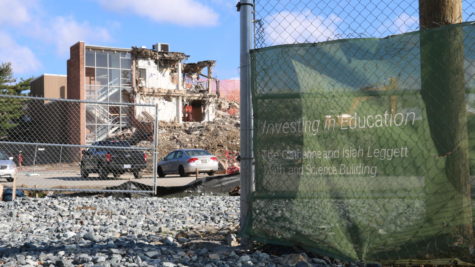 The funding, if approved, will be used to equip the new building with adequate laboratory supplies, up-to-date classrooms and technology, and furniture such as chairs, tables, and other necessary appliances.
With 50% of the funding coming from the state and the other 50% from the county, senators wanted to secure the support of both political parties as the project draws closer to its completion date. Senators submitted their letters to the delegates in early February, with several other organizations picking up the beat in reaching out to the Maryland delegation.
Madison Oswald, Vice President of the Student Senate TP/SS campus, had an optimistic outlook for the request approval in her remarks on the endeavor, saying, "After meeting with a multitude of senators and delegates, I believe that the funding request for the Leggett Building will be approved. I can assure you that they are extremely passionate about helping to better the amazing educational opportunities that Montgomery College continues to provide."
Leave a Comment