Genocide in Myanmar
October 28, 2019
Genocide: the "deliberate and systematic destruction of a group of people because of their ethnicity, nationality, religion, or race." In a southeast nation known as Burma (Myanmar), genocide is being committed against the Rohingya. 
The Rohingya are a mostly Muslim ethnic group of Burma who live in the Rakhine State. They have been denied citizenship by the 1982 citizenship law, which increases statelessness in Burma as the years pass and violates the Universal Declaration of Human Rights, which states that everyone has a right to nationality. They are also in violation of the Convention on the Rights of the Child, which requires states to ensure a child's right to obtain a nationality. 
People are often required to get official permission to get married, and some are denied access to education. Burma recognizes 135 different ethnic groups, but the Rohingya is not on this list. This discrimination and religious persecution continues day after day.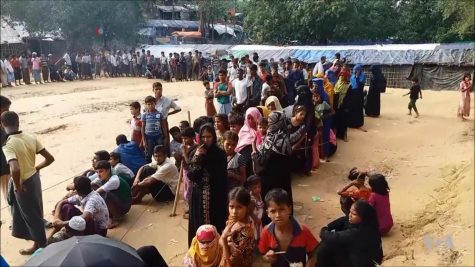 Violence is a huge problem in the region. The Burmese army and government continue their campaign of ethnic cleansing against the Rohingya. The atrocities they've committed include "mass killings, sexual violence, and widespread arson," according to Human Rights Watch. Women are being raped, villages destroyed, and many people left homeless and forced to run for their lives.
This persecution and violence has forced nearly 750,000 Rohingya to flee their homes since August, 2017.  Many have sought refuge in Bangladesh. According to Myanmar authorities, 176 of 471 Muslim villages in Northern Rakhine have been completely abandoned.
Abul Basar, a twenty-year-old man who had a small business selling betel leaves, attempted to flee when the army came to his village, according to a CNN article.  When the army neared, Basar ran to a nearby hill. From there, he saw the army rape his wife, the article reports. He was so upset by this that his fellow villagers had to carry him to Bangladesh, a journey Basar says he cannot remember.  
Anuwara Begum, a thirty-year-old mother from rural Maungdaw, lived with her husband and their three children. The army entered her village and burned down some of the houses, CNN reports, caused the people to flee. Begum's house survived so her husband, along with some neighbors, went back to get their belongings. But the army was waiting for them, and when the villagers returned, Begum's husband was shot and killed, the article states. Begum fled to Bangladesh with nothing but her children and the clothes on her back. 
These people may have survived, but they have been forced to leave their homes, seek asylum in countries which may or may not take them in, and watch as their loved ones die.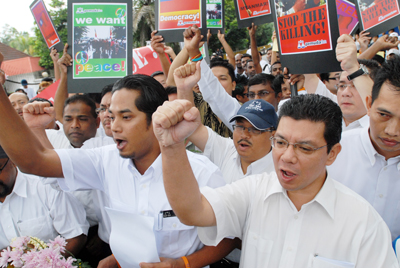 While the Burmese government seems to be doing little to stop these atrocities, there are organization, such as the Burma Task Force, that are committed to ending the genocide. The Burma Task Force has helped file a civil lawsuit against the Burmese government, increase aid to Rohingya refugees and "helped create broader environment of public pressure that prompted the UN Fact-Finding Mission in Burma."  
Abdul Rasheed, a Rohingya, founded the Rohingya Foundation, a human rights organization based in Yangon. Rasheed also serves as an adviser to Fortify Rights, another human rights organization that specializes in Rohingya issues. Others have started petitions to sanction Burma and stop the ethnic cleansing against the Rohingya. 
In recent months, the U.S. State Department issued sanctions to four top military leaders in Myanmar over what it called "gross human rights violations," according to National Public Radio.