Washington Monument Reopens
The D.C. skyline would not be the same without the 555-foot tall towering Washington Monument at the center of the National Mall. After remaining closed for years, the National Park Service reopened the Washington Monument to the public on September 19, allowing visitors to access the inside and ride to the top of this historic landmark.
Since construction began in 1848, the monument honoring the nation's first president has seen its share of setbacks and catastrophes. Monument construction halted in 1854 due to a lack of funding and only 156 feet was completed. However, Congress secured the needed funds and a new quarry in Massachusetts in 1876 to finish the monument.
The entire 555 feet, 5 1/8 inches of the monument opened to the public 1886. The original steam-driven elevator took visitors to the top in about 12 minutes. After opening, the monument proved to be a popular attraction for visitors and vandals alike, forcing the monument to close for much of 1887 until it could be better protected.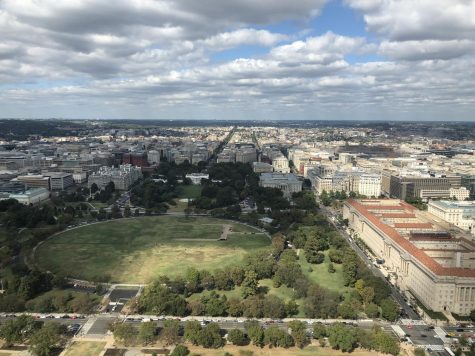 More recently, the first of many misfortunes occurred in December 1982, when a man drove his vehicle into the monument's base and threatened to blow it up. His actions precipitated a hostage crisis, trapping visitors in the monument for hours. Then in 2011, a 5.8 magnitude earthquake in Virginia impaired the monument's structural integrity, closing it indefinitely for structural repairs. Upon completion of the repairs, the NPS closed the monument again in 2016 to upgrade the unreliable elevator.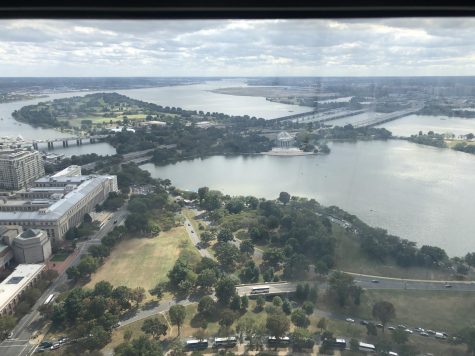 During a recent visit, NPS employees were very helpful and proud of the new and improved elevator during the ascent to the top of the monument. The small observation level at the top of the monument offered four distinctive views of D.C., Virginia, Maryland and the Tidal Basin. Each view included an enlarged photo above with buildings and landmarks clearly identified. Visitors to the monument are permitted as much time as they want to enjoy the spectacular views and take photographs.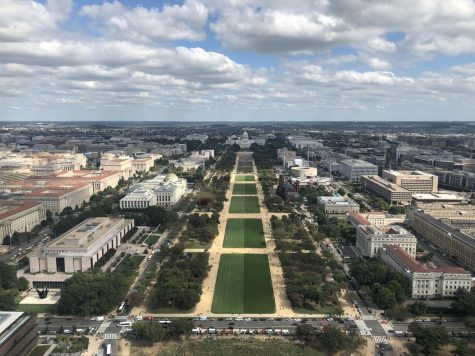 Matthew Ford, another monument tour participant, expressed wonderment regarding his visit to the newly reopened monument. "The best part was definitely the views and the commemorative stones carved into the inside walls of the monument which I saw during the elevator ride down." Ford also expressed a desire that the NPS reopen the stairs so that he could more closely examine the commemorative stones.
The Washington Monument is a cherished structure on the National Mall. On a daily basis, lengthy lines form where people wait to get free same-day tickets.
Leave a Comment