Burnt Popcorn Causes Thursday's Fire Alarm
An Unexpected End to Stress Relief Week
Stress Relief Week at Montgomery College's Takoma Park/Silver Spring Campus came to an abrupt end on October 10 when a fire alarm sounded in the ST building shortly after 1:00 p.m.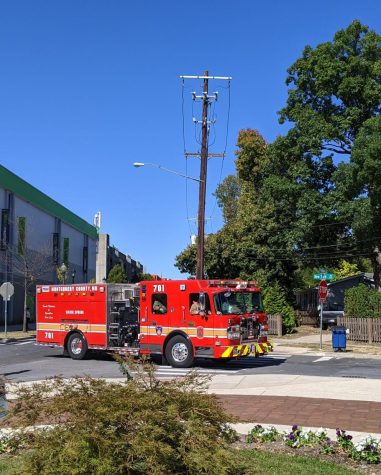 As automatic doors closed and alarms screeched, students and faculty made their way outside in a bewildered fashion.
"I was in the atrium meeting with students and getting my lunch when the fire alarm started," said Clemmie Solomon, Montgomery College's Collegewide Dean of Student Engagement and Takoma Park/Silver Spring Dean of Student Affairs. "You have to take these alarms seriously, which is why I started ushering students outside." 
Students and faculty expressed amazement with the quick response time of the Montgomery County Fire and Rescue Service's Silver Spring Station Engine #701 when it arrived on the corner of Fenton Street and New York Avenue. Within minutes of the alarm's initial sounding, fire fighters entered the ST building to investigate and secure the building.
Among those gathered outside was Executive Associate to the Office of VP/ Provost Shane Doyle. "It could be false, it could be dust on a sensor or someone could have pulled the alarm," Doyle said. "We don't exactly know what it is at this point."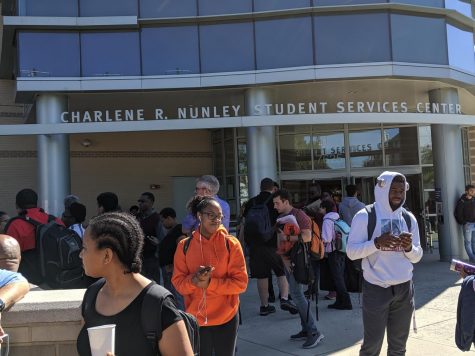 After the building was cleared by the fire department, students and faculty were waved back in by security, signaling that everything was clear and there was no threat of fire.
Montgomery College Campus Security Sergeant Tamekia Williams later explained that the source of the fire alarm was burnt popcorn in a microwave on the second floor, which tripped a detector near the microwave. 
View Comments (2)