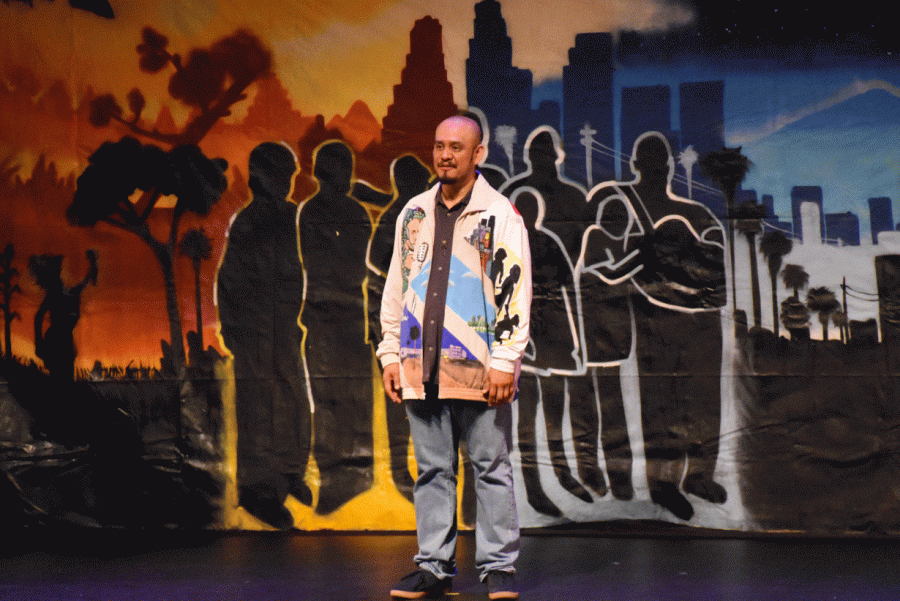 WET: A DACAmented Journey
During his adult life, Alex Alpharaoh has undertaken the roles of actor, producer, writer, director, poet and loving father. However, the one role he has yet to officially assume is American citizen. Alpharaoh is "DACAmented," a term he coined to describe his immigration status. In his one man spoken word play, "WET: A DACAmented Journey," presented at the Montgomery College Cultural Arts center on Friday, Alpharaoh depicted his life experiences as an undocumented immigrant in the United States.
The DACA in DACAmented refers to the Deferred Action for Childhood Arrivals immigration policy. Instituted by President Barack Obama in 2012, the policy gave many immigrants like Alpharaoh temporary protection from deportation and permitted them to legally work in the United States. In 2017, President Donald Trump announced that he intended to phase out the program, putting the protected status of many in the DACA program in danger.
Before Alpharaoh was granted deportation protection, he lived an extremely cautious and restricted life, unable to enjoy many of the experiences that American citizens take for granted. Employment, a driver's license and various social safety net programs were out of his reach after finishing high school. Unwelcomed, unwanted, and living in his car on the streets of Los Angeles, Alpharaoh turned to drugs to cope with the reality that he might be deported at any moment.
It was during this period that Alpharaoh put his fears and anxiety onto paper in the form of spoken word poetry. When he transposed his painful experience from paper to stage, Alpharaoh found the unconditional acceptance that he longed for in the arts community. On his first trip outside of the U.S. to visit his dying Grandfather in Guatemala whom he had never met, the idea for "WET: A DACAmented Journey" came to him. Before his stage performance, Alpharaoh facilitated a poetry presentation workshop for a handful of students and faculty on Thursday.
In an interview after his workshop, Alpharaoh described his performance's purpose as a way "to demonstrate just how painstakingly hard it is for DACAmented and undocumented Americans to remain at home."
The pain and anguish experienced by Alpharaoh—and his extended family—came pouring out of him Friday night as he presented his life on stage.  Imitating the voices, mannerisms, and emotions of not only himself at various stages of his life, but all his family members, Alpharaoh's commanding stage presence transported the audience into various uncomfortable situations he's experienced throughout his life. While standing in front of a colorful graffiti backdrop which fused Guatemalan and Los Angeles landscapes, Alpharaoh presented themes touching on family, domestic abuse, mental health, death, poverty and finding "home."
After the performance, Montgomery College student Wendy Rodriguez, who also attended Alpharaoh's workshop, praised the show. "His emotions came alive. I felt what he was feeling, and I cried," Rodriguez said. "This was both a wonderful and necessary performance."
Alpharaoh's performance seemed to hit a raw nerve with many others in the audience, some of whom flattered him with compliments during a question and answer session after the performance.
There are over 700,000 DACA recipients like Alpharaoh residing in the U.S., according to the U.S. Citizenship and Immigration Services. These DACAmented individuals live their lives in two-year increments, constantly re-applying for permission to work and be free from the threat of immediate deportation.  In June of this year, the Supreme Court of the United States agreed to review the legality of DACA, and a permanent decision is expected to be delivered in 2020. Until then, many DACAmented and undocumented Americans will continue to live in the only country they have known, fearing imminent deportation.
Alex Alpharaoh's "WET: A DACAmented Journey" puts a name and a face on the many immigrants just like him who struggle everyday trying to remain at home during these tumultuous times.
WET: A DACAmented Journey