International Night: Celebrating Different Cultures
Hang on for a minute...we're trying to find some more stories you might like.
The concept of an "International Night" — an educational celebration of many different cultures at the same time — may sound like a recipe for chaos.
But International Night at Montgomery College proved to be one of the best, most enjoyable and jam-packed events at MC this year. Most talked about and the prominent school club Great Minds collaborated with the Ethiopian Student's Association to organize International Night in order to create a sense of unity in diversity. The event successfully celebrated many different cultures alongside each other.
On March 30, starting at 6:00 PM, the Student Services Center was filled with about 200 students as well as some faculty members. Joshua Briggs, former President of the Great Minds club, was in charge of the food at the event. He arranged to have different dishes from all over the world.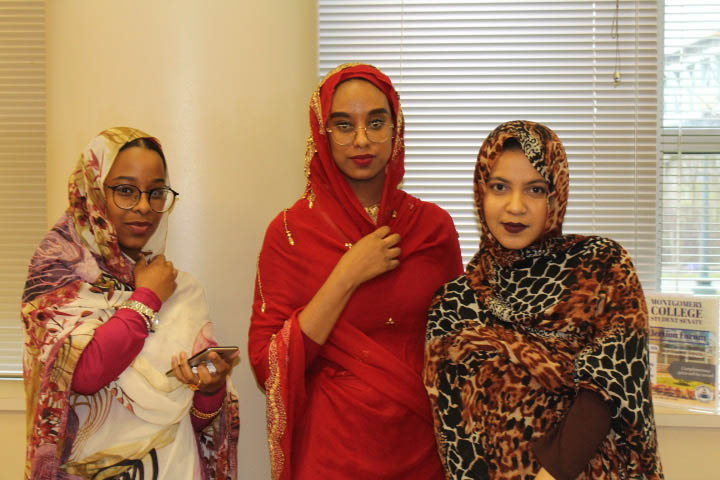 Okole Bashonga
Music from almost everywhere played throughout the night, students dressed up in traditional attires from their own cultures, and there were dance-offs and prizes. But the most anticipated part of International Night was the performances by MC students who demonstrated art forms from their native cultures. Performers sang, danced, and recited poetry.
Great Minds President and Co-founder Landry Balbin hosted International Night together with Great Minds Treasurer Sarah Haj Hamad. Landry's love of diversity and sense of humor made the event welcoming for students of all different backgrounds. The program started with MC Student Simon Molina, reciting a poem about his home country Venezuela. A power-packed Ethiopian dance by Teddy followed, so full of energy that many in the crowd joined him on the stage. The dance team Hylife, comprised of students Aston Kamwa, Armando, Joshua Okechukwu and Rey Lawson, performed dances from Nigeria, Cameroon, Ghana, and Guinea. Former MC student Jahi Madzimoyo performed a Brazilian dance called Capoeira. And Great Minds secretary Malaz Ibrahim showed her patriotism towards Sudan by reciting a poem so poignant, the crowd was speechless for a few moments before breaking into applause.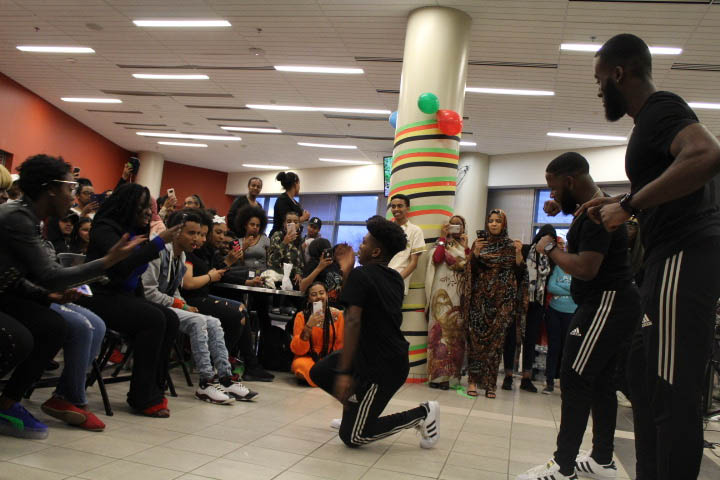 Hylife lit up the stage with a second performance, and this time many audience members joined in. MC African Students Association members Yvan, Precious, Swizz, and Thelma followed with a bang-on performance. Cambodian student Phou-Nam then performed a breathtaking feat — she bowed an arrow straight into a balloon, using not her hands but her feet, standing upside-down. Hylife performed for a third time that night per crowd request, this time with another member named Ado-Official AKA Ibrahim Sylla. After the performances, dinner was served, but people kept dancing throughout the night. International Night remained the talk of the college for days.