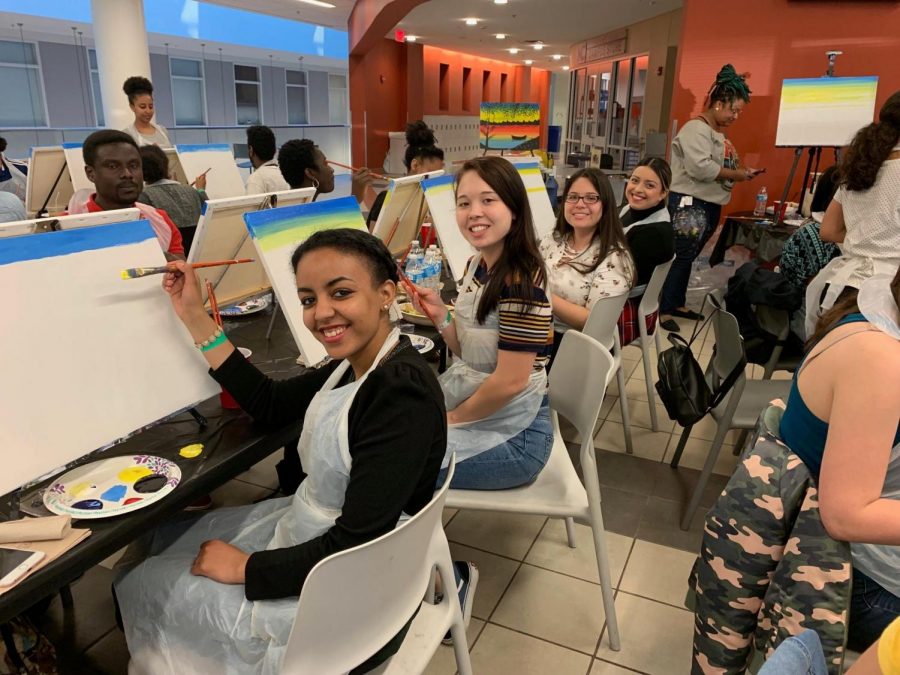 Kimberly Herrera
On April 10th, the second floor café area of the Student Services building was cleared to make way for brown tables and a row of clean white easels. A stock painting of a sunset was propped up on a blue plastic tablecloth in the back of the room that students passed as they filled up their plates.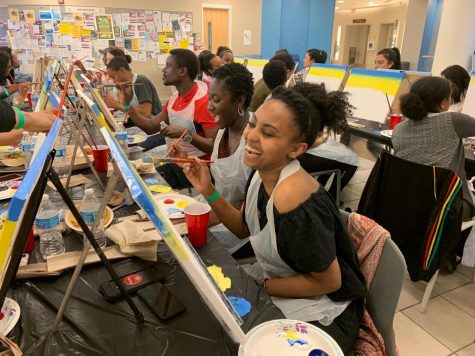 Paint Nite was orchestrated by the Student Senate under the direction of Ms. Kimberly Herrera, the director of Student Life. It was, for many Nursing students, a relaxing break.
According to the instructor Liana, a stout woman who had been instructing Paint Nite for eight years, the goal of this event was "to spread positivity." On Paint Nite there are no mistakes.
"You do something, and I tell you it looks lovely," she explained. Typically, paint nights are commercial events where people pay to be instructed on how to repaint a stock painting. This one, however, is sort of a party. Students eat Chipotle and sing along to the loud music as the instructor tells them exactly what to paint.
For Liana, a really great thing about this kind of event is seeing how many variations of a product people can produce with the same instructions. "When I say make light green by mixing blue, white and yellow, it can be crazy how many shades of green people produce!"
"The goal is to prevent painting from 'being confusing'," she adds. "I don't want to confuse people because then it's not fun." She's named the brushes after popular musical artists and encourages people to experiment with their own style.
While many paint nights occur in bars, painting parties can happen anywhere there are tables. The important thing is to make people feel good and feel like they walked away with a good experience.
This event was a success, confirmed afterwards by a man who held up his painting with a big smile, glancing down at the canvas and exclaiming proudly, "I learned how to paint!"